Silk Thread Embroidery on Handwoven Silk-Khadi Fabric (in a dophar technique, ie. the front of the embroidery is identical to the back of the embroidery) contained in a Hand-crafted Teak Wood Box which is internally painted with natural pigments of fuchsia, lined with a pure cotton handmade khadi paper which is tinted with madder pigments on the back to emulate blood stains, symbolic of a woman's bloodstained path to emancipation, and embroidered with pure cotton, naturally stained embroidery floss in the colours of the Indian flag and embroidered in a pattern derived from Sanskrit text.
Stories are the most fragile and ephemeral of historical archives. I have always been enticed by the beauty of these generational documents. Some of my favourite passed on stories come embroidered delicately on the silk 12-inch squares of Chamba Rumals: they chronicle the mythological stories of Gods such as Vishnu in his many forms and even the stories which come passed down in the royal courts of the Mughals and Rajputs in India. However, these stories tend to leave the women, who are instrumental in catalyzing change and revolution, in the background of historical documentation. These recreated Chamba Rumals are a re-telling of stories which bring to the foreground female voices and elucidate the intrinsic role that women played, and continue to play, in the Indian landscape. Chamba Rumals from ancient India are small hand-embroidered handkerchiefs that were made in the village of Chamba, Himachal Pradesh. They are adorned with dophar embroidery, which can be viewed from two perspectives; thus, the back of the rumal has the same embroidery form as the front. They illustrate stories and epics of the time. Reminiscent of the dophar technique, these handkerchiefs draw a parallel with the way we see our history as well: from more than one perspective.

These rumals have been sold to raise money to support the primary education of the daughters of the women in Chamba, Himachal Pradesh (wherefrom this craft originates) who practice the craft of dophar embroidery till this day. 
Rumals on view at the German Gallery : 
The wood box is made in the local teak wood and the embroidery into the wood is in the colours of the Indian flag to reiterate the locality of this issue, but the embroidery pattern itself is derived from Sanskrit but contemporized to bring to light to the universality of this pertinent issue. The embroidery is based off a Sanskrit saying from old times which reveres and celebrates women to remind us that our scriptures and our past celebrated and respected women, and question why we are not continuing those traditions even today.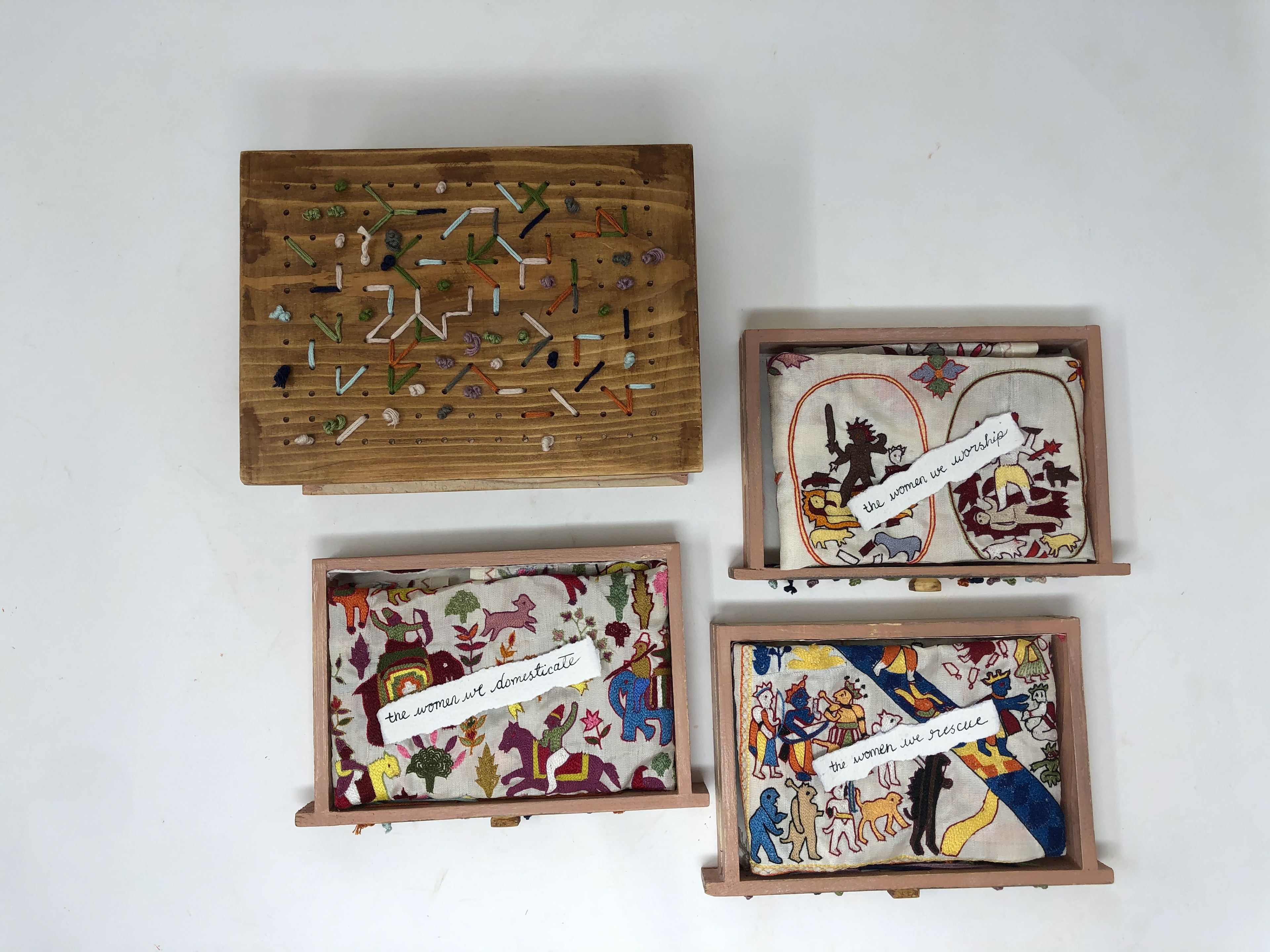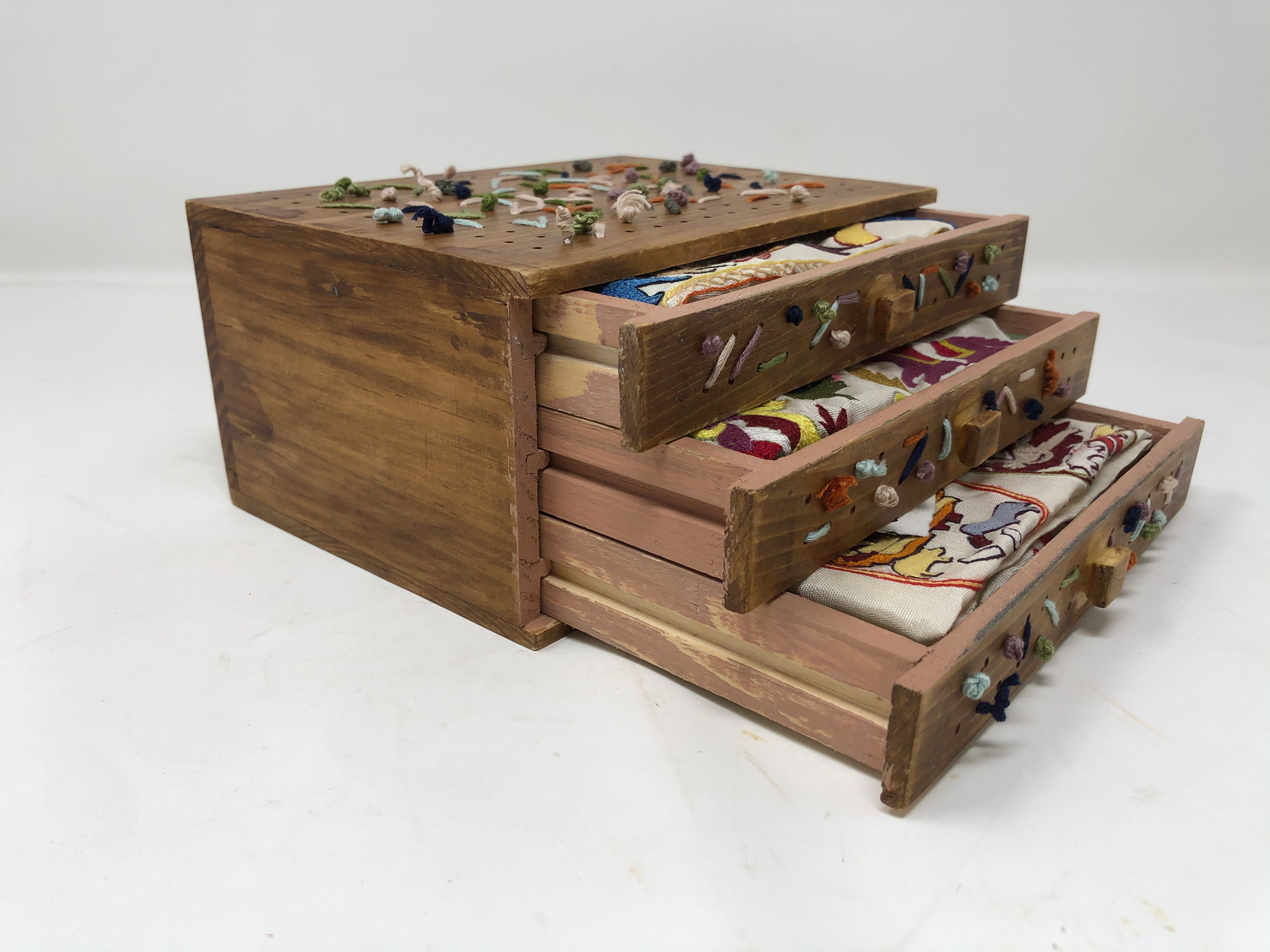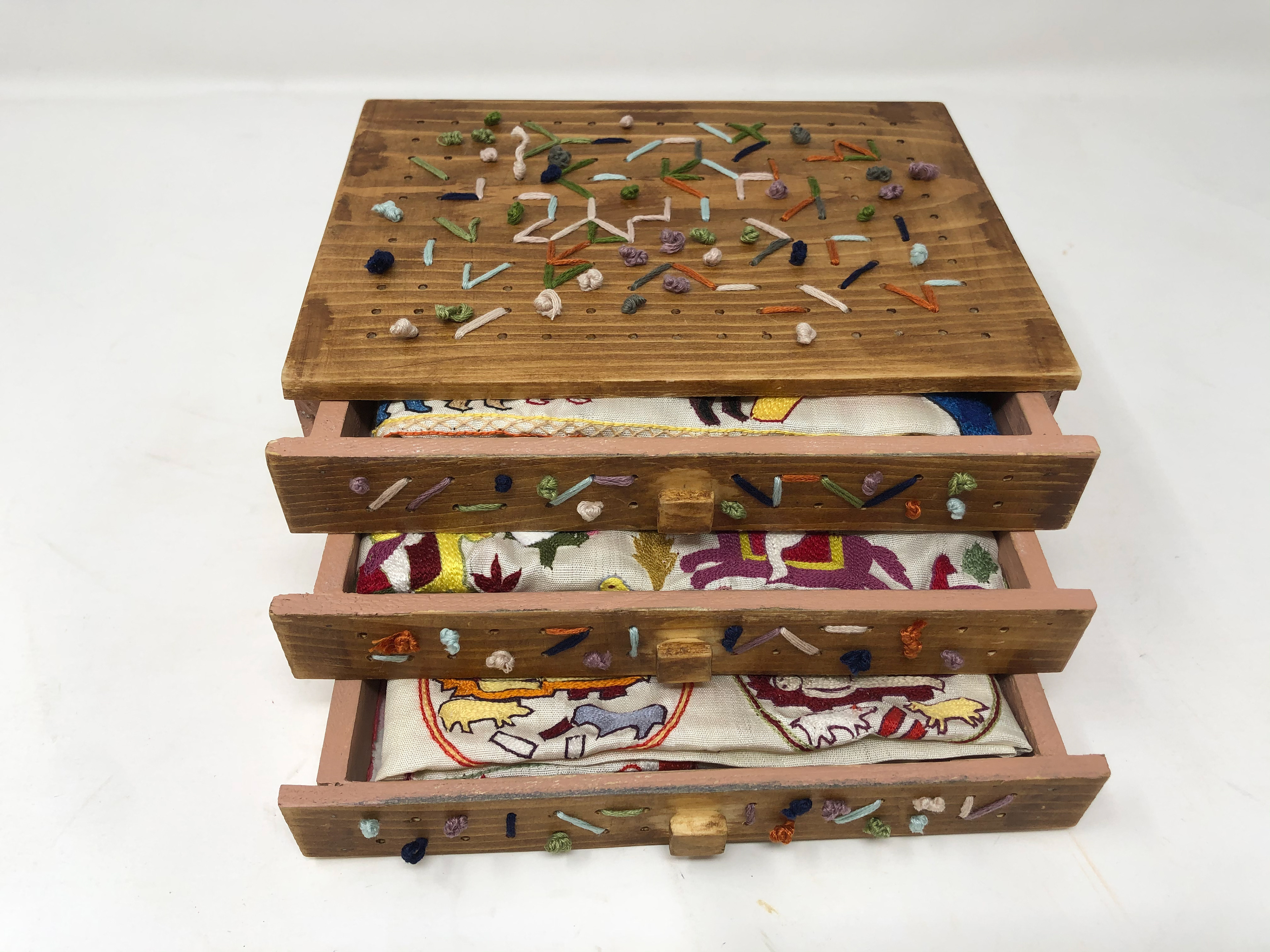 Video for the RISD Special Collections :

Music credit: The song in the video is an invocation to the woman to continue to be inspired while inspiring those around her, sung in Sanskrit by Gaiea.